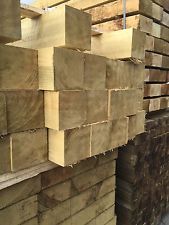 Updated 01/08/16
When it comes to the durability of your fence your choice of post is critical. Generally you have three options, you could go for concrete posts, a tanalised fence post or an untreated wooden post.
View our range of tanalised fence posts : click here
A concrete fence post is generally the most durable option but they are also the most expensive option, are pretty harmful to the environment in their manufacture, are heavy to move and install and are often only suitable for a limited number of fence styles and height options.
An untreated fence post is far cheaper than a concrete post but only marginally cheaper than a tanalised fencing post. Untreated softwood posts are liable to rot within three to five years. You could opt for a hardwood post, but then costs are dramatically higher.
A tanalised fence post offers the best of both worlds, affordable and durable. A tanalised post will last as long as 15 years, is half the cost of a concrete post and comes in enough size varieties to suit every type of fence you might need to erect.
Here at Oakdale Fencing Ltd we stock, year round, a comprehensive selection of tanalised timber posts. We carry all the standard sizes and lengths you might need for use with fence panels, feather edge fencing, post and rail fences and wire/mesh fencing.
As well as fence posts we carry a full range of tanalised gate posts suitable for field gates, driveway gates and yard gates. We also have a full range of tanalised stakes and machine rounds that are ideal for wire and netting fences.
We are based in Coventry and are open to the trade and public. We deliver extensively across the West Midlands, Warwickshire, Leicestershire and Northamptonshire. If you need a delivery we can often deliver within 3 days (sometimes sooner) to Birmingham, Coventry, Rugby, Leamington Spa, Warwick, Nuneaton, Leicester, Redditch, Bromsgrove, Solihull, Tamworth, Northampton, Kettering and many other areas.
If you need advice on which tanalised fence post might be the best option for you you can call Martin on 024 76 588 909 for expert advice. We are open for viewing or to take calls from 8am till 5pm Monday to Friday and 8am till midday on Saturdays.
Check out our range of tanalised posts on our website : here