Last updated 01/08/16
If you are looking for agricultural gates you will be pleasantly surprised by the range of competitively priced agricultural metal gates and timber farm gates Oakdale Fencing Ltd carry in stock all year round.
Check out our range at our online shop here : Agricultural Gates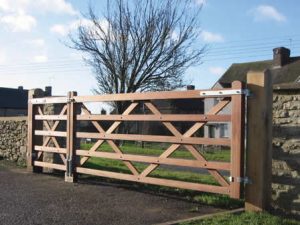 Oakdale, based in Coventry, carry a wide range of galvanised field gates and both tanalised and hardwood farm and estate gates for use in rural or town settings. We deliver next day to Nuneaton, Rugby, Warwick, Leamington Spa, Stratford Upon Avon, Solihull, Redditch, Leicester, and Birmingham and to most areas across the West Midlands, Warwickshire and Leicestershire. If you are outside these areas we can offer delivery if required, please call or email in the first instance.
We offer tanalised timber five bar field gates in a variety of size options including 3ft, 4ft, 5ft, 6ft, 7ft, 8ft, 9ft, 10ft, 11ft and 12ft. We carry an extensive range of gate posts and galvanised fittings to suit timber gates which can be bought seperately and sent next day by courier if you require.
If you are after a more decorative agricultural farm gate option we can offer either tanalised or iroko hardwood estate gates, these are a traditional variation on the 5 bar gate that are built to last. We supply these gates in the same sizes as the 5 bar gates.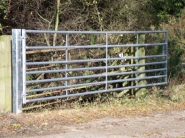 As well as timber gates we carry traditional tubular seven bar steel agricultural metal farm gates that have been zinc coat galvanised for extra durability and life span. These can be supplied with or without tubular steel gates posts on request. Our steel farm gates come with slide bolts fitted and only require eye bolts for fitting to existing gate posts. We carry two styles of seven bar metal field gate namely box end and plate end. Both styles can be supplied in the following widths : 4ft, 6ft, 8ft, 10ft and 12ft.
If you require either steel or timber gate posts we carry a range of posts to suit all the gates we supply. We have tubular galvanised steel gate posts suitable for use as hanging or slammer posts. Our tubular metal gate posts are either 3.5 ins or 4 ins diameter by 6ft in length. Hanging posts come complete with welded hooks to take eye bolts(also available). Our tanalised pressure treated timber gate posts are available in either flat top or four way weathered top options. We carry timber gate posts in all common sizes including 5×5, 6×6, 7×7, and 8×8 options.
Check out our range of agricultural gates, gate posts and fittings here : Agricultural Gates/Accessories
If you need any help or advice please feel free to call Martin on 024 76 588909 Monday to Friday 8am till 5pm or Saturday 8am till 12.