Last updated 01/08/16
Oakdale Fencing Ltd are a specialist fencing supplies contractor based in Coventry. Operating throughout the West Midlands, Leicestershire and Warwickshire, we can supply and erect any steel metal gates that you may require whether they are for decorative or security purposes.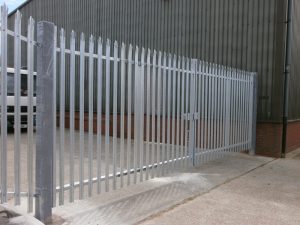 Our skilled workforce is wholly employed by ourselves and through years of experience and training has a wealth of knowledge and expertise when it comes to installing all gates from pedestrian gates through to 12m gates. We are quality certified to ISO9001:2008 ensuring you get the best service and performance available.
The range of gates we supply and install include steel palisade security gates, decorative/security metal railing gates, rigid wire mesh gates, chain link gates and sliding gates of all types.
Steel palisade security gates can be supplied in sizes ranging from 1m pedestrian gates through to 12metre opening vehicular gates, in most instances we will attend site and measure the opening to ensure a good custom fit. Our palisade security gates are available in various heights including 1.8m, 2.0m, 2.1m, 2.4m and 3.0m and can be purchased and installed in various standard colours including green, black, blue, yellow or red although other colours are also available. Our steel palisade gates are galvanised for durability and can be specified with a round top, notched top or pointed top finish to individual palisades.
Metal railings gates can be specified to match in with existing railings or supplied as individual stand alone gates to suit your needs. Our railings gates are custom made to suit the width of your opening and are available in the same standard heights as the palisade security gates. Railings gates can be supplied galvanised although we can also supply gates with a polyester powder coated finish to most colours. All our railings and gates to suit can be supplied with a wide choice of finials to match existing fencing or for general decorative appeal. Railings gates are available in a number of different bar sizes ranging from 10mm through to 18mm bar depending on the strength required.
Rigid wire mesh gates are top line security gates, easier on the eye than palisade whilst offering good anti climb properties. The gates can be made to any width up to 12m and are available in standard heights of 1.8m, 2.0m, 2.1m, 2.4m and 3.0m. Wire mesh is constructed from 8mm wire that is welded into a mesh pattern, galvanised for durability and powder coated for decoration. The mesh is mounted on box section steel frames. Frame section sizes are dependant on the overall width of the gate leaf.
Chain link gates can be supplied in various formats. If you require a temporary gate we can construct and erect a timber framed chain link gate for a quick cost effective solution. These gates can be constructed in all the standard heights but are really only suitable for openings up to 8m. If you require a more permanent gate we can supply a choice of gates with chain link mounted on either box section framing or angle steel framing. Chain link gates can be specified as galvanised or powder coated and 3 strand barb can be fitted to gate leafs for further security if required.
Whichever gate you have in mind, bear in mind that delivery of metal and security gates tends to be three weeks due to the custom construction although installation can usually be completed within a day. We can supply and install or supply only to Coventry, Nuneaton, Rugby, Warwick, Stratford Upon Avon, Leamington Spa, Solihull, Bromsgrove, Redditch, Leicester, Birmingham and most towns throughout the Midlands.
For advice or to arrange a quotation for any steel security or decorative gates call Tom Bell on 024 76 588904 in the first instance.