Updated 01/08/16
Oakdale Fencing Ltd carry an extensive stock of Armco Barrier Posts that are suitable for most installations. Whether you are looking for bolt down or concrete-in type posts we have a number of posts types and sizes that are ideal for most scenarios.
Check our online catalogue for prices today : Armco Barriers
Bolt Down Armco Posts
We stock two styles of armco crash barrier posts that are suitable for bolting down to concrete surfaces. We carry a "H" section post and a "U" section post. The "U" section has a smaller baseplate that is ideal in circumstances where space may be limited.
Both styles of post are available in either 560mm or 760mm heights. The H post is formed from 130x80mm RSJ mounted on a post that measures 250mm wide x 330mm deep. The U section post is 125mm x 80mm mounted on a 250mm x 250mm base plate.
Concrete In Barrier Posts
If you require posts that are suitable for concreting in to footings we carry two styles. We have both H section posts and Z section posts in a variety of lengths to suit barrier 560mm high through to 1.2m high.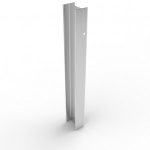 H section posts are formed from 130mm x 80mm RSJ and offer a strong rigid post suitable for use on farms, carparks and factories. Z section posts are 125x90mm cross section and are better for use in pedestrian areas as fewer sharp edges are exposed.
Both our surface mounted and concrete-in style posts are fully galvanised ensuring a long life time free of rust.
If you require holding down bolts to accompany surface mounted posts these can often be supplied from stock. We carry budget zinc plated holding down bolts or the more durable galvanised studs. In both instances we can supply the resin anchor fix to securely fit the studs to drilled holes.
In some instances you may require floor sockets for use with concrete-in type posts to allow for armco barriers to be easily removed and re-erected at a later date. We can supply these items as specials.
Please call Tom on 024 76 588 904 with any enquiries on our armco crash barrier or alternatively for prices on standard items please visit our catalogue web page via the link at the top of the page.