Last updated 01/08/16
Oakdale Fencing Ltd are one of the Midlands leading quality certified commercial fencing contractors. We supply and install metal high security fencing/gates, steel railings/gates, chain link fences, security mesh fencing, palisade fencing, crash barriers/guardrails, handrails and timber close board, post and rail and noise fences to perimeters throughout the area.
With 25 years experience working for the highways agency, schools, churches, hospitals and local commercial enterprise you can be guaranteed you will get the best advice, price and fitting service available on the market regardless of the size of perimeter or the type fencing you require.
Based in Coventry, Oakdale Fencing Ltd are able to offer competitive supply and installation/repair prices throughout Warwickshire, Leicestershire and the West Midlands. We are available to carry out works in Nuneaton, Warwick, Leamington Spa, Stratford Upon Avon, Solihull, Rugby, Leicester, Birmingham and all towns within the Midlands no matter how large or small the works. If you need a quick repair or a full perimeter installation we can offer the best price and advice with a timely installation service.
Security Fencing
We are able to offer all levels of security fencing available in most standard heights from 1.8m to 3m high. The ranges of fencing and gates we are able to supply/install include high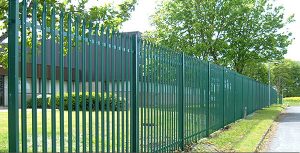 security steel meshes, galvanised or poly powder coated metal palisade, steel railings and vertical bar in either decorative and/or high security arrangements or heavy duty barbed chain link fencing.
If you have an existing security perimeter that requires repair we can offer quick repairs. If your perimeter is compromised by intruders we can offer advice on how best to combat breach points. If you feel you need bar or razor wire we can offer a competitive pricing and installation service to help.
Timber Fencing
We have extensive experience of supplying and installing all types of timber fencing to customer specifications under our quality certification. Our speciality timber installations include traditional feather edge close board fencing and gates in heights from 5ft through to 3m on concrete or timber posts, post and rail agricultural fencing, noise or acoustic fencing in heights from 1.8m through to 3m high and the full range of timber gates whether for driveway or agricultural use.
Handrails and Guardrails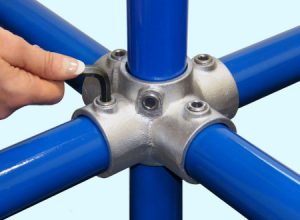 Oakdale Fencing Ltd carry a full range of pedestrian guardrail and hand rail systems for use on car parks, road side or commercial properties. We can offer safety handrails and guardrails to heights of 1.2m in galvanised or coloured finishes suitable to fitting to edges above heights or for segregating pedestrians from vehicle traffic in busy areas. Our guardrails and steel hand rails can be installed in concrete foundations or bolted down depending on preference and the type of site.
Crash Barriers
With extensive experience of fitting vehicle crash barriers to the UK highways Oakdale are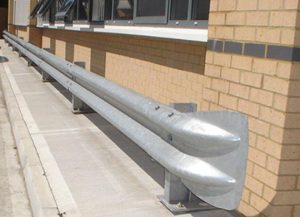 ideal candidates if you need crash barriers installed to car parks, factories or any off road scenario. We are able to supply a full range of bolt down or concrete-in heavy duty crash barrier in corrugate or box section style. As well as supplying new barrier we can also offer budget installations utilizing reclaimed beams erected on new posts. All installations are covered by our quality guarantee.
Whatever your requirement, be it a small repair or an extensive boundary, in the first instance call Tom Bell on 024 76 588 904 for advice or to request a quotation. We are always happy to come and inspect a site prior to quoting to insure you get the right fencing for the job at hand.