Updated 01/08/16
Oakdale Fencing Ltd are one of the leading armco barrier suppliers in the West Midlands. Based in Coventry, we carry a full range of Armco crash barriers suitable for all types of car park works, factory works and works around storage tanks.
Check Our Prices Today Here : Armco Crash Barrier Supplies (Prices Include VAT at 20%)
Armco Crash Barrier Posts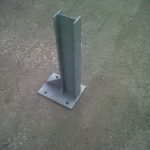 We supply both concrete-in type armco barrier posts and surface mounted posts. We carry a range of posts in different steel sections suitable for most budgets. We have heavy duty "H" section posts and a cheaper "U" section post in our surface mounted range. Both sections are available in either 560mm or 760mm heights. Our concrete-in type posts come in either a "H" section or a "z" section and are available in lengths to suit fences as high as 1200mm.
"W" Section Armco Beams
We carry extensive stocks of Armco barrier available for either collection or delivery next day. Beams are formed from 3mm galvanised steel with an overall length of 3.5 metres. (Lapped to give a continuous length of 3.2m)
Armco Crash Barrier Corners
For the perfect corner we have the perfect pre-welded pieces. We supply both internal or external corners all available from stock.
Crash Barrier Ends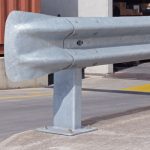 We have a number of options for blanking off the ends of crash barrier beams dependant on the location you want to place your beam. Our budget end is a PVC yellow end that is great for protecting pedestrians from catching on rough beam ends. The PVC sleeve is simply pulled over the end of the beam. If you are after a pedestrian end that is a little more heavy duty and less prone to easy removal, we have scroll ends. If you are after a traditional end wing we carry large numbers in stock.
Armco Fasteners
We have a full range of fasteners for crash barrier works. We can supply lap bolts, post bolts or anchorage studs for any job large or small.
Please follow the link at the top of the page to view our Armco barrier supplies and to get today's price. If you require any further details on delivery costs or have works you need installation priced, please contact Tom on 024 76 588 904.