Updated 01/08/16
Oakdale Fencing Ltd based in Coventry carry a full range of tube clamp handrail accessories and fittings. Tube clamp systems, otherwise known as "kee klamp" handrails, can be a great option if you are looking for some inexpensive hand railing as a temporary option or as a permanent fix.
What It Is Used For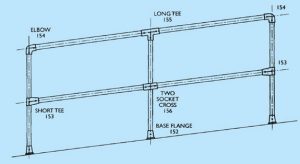 Tube hand railing is ideal for use along the side of loading bays, as edge protection above high drops or simply as outdoor stairway hand railing. Where ever you have pedestrian access near to a drop of over 300mm this style of handrail can be the most cost effective solution when it comes to reducing fall hazards.
Tube handrails are easy to install. You can either concrete the hand railing into soft ground or drill and fix to concrete and hard surfaces with the use of special fittings we can provide. Tubes can be joined and redirected with fittings that are attached with a simple hexagon key for speed. If you want a cost effective handrail system then this is the ideal solution.
What We Supply
We can supply galvanised tubes and fittings to create any type of handrail systems suitable for most locations. We stock galvanised steel tubes with an outside diameter of 48.3mm in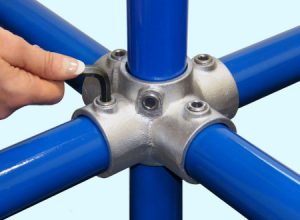 6m lengths. These tubes can be easily cut on site to create most of the common patterns of hand railing.
We have over forty different types of tube fittings allowing you to install on gradients, bolt down to surfaces, join tubes together or finish off handrail runs neatly.
We can supply nationwide usually within 3-5 days of order.
Installation Service
As well as offering tube clamp supplies we can also offer an installation service. Our installation teams have years of experience at fitting tube handrails to a variety of locations. If necessary we can attend your site and survey the location to ensure you get all the correct fittings needed before installation.
Whether you need parts, a fitting service or just some advice call Tom in the first instance on 024 76 588 904 for a quote.