With more and more people deciding to renovate their homes or other properties in order to take advantage of the booming property market, the garden is often an area that is widely overlooked. Without doubt, a well designed and thought out garden can add considerable value to a property. Estate agents Coventry estimate that a well thought out garden that provides can add up to 10% to the value of your property.
To take full advantage of the financial benefits a well designed garden can bring, first an owner should identify the main purposes of a garden, and what it can bring to the property in question.
Garden Design
A garden should be designed to suit the needs of its property's occupants. A large family home accompanied with a garden ideal for socialising will help make the property more appealing to potential buyers.
Decking is the perfect solution for creating the perfect area where a family can socialise. Its extreme versatility means that it can be installed practically anywhere. Whether you're looking to create an area ideal for relaxing right outside your doorstep, or to create an area on which you can build a summer house, decking offers the perfect solution.
The recent increase in the popularity of bi-fold doors has lead to many property owners introducing decking at the very front of their garden. This acts as an extension of their indoor living area when the doors are open. The wide variety of different decking finishes available means that the decking can be played to match or compliment the indoor flooring creating a seamless look that flows from the property to the garden.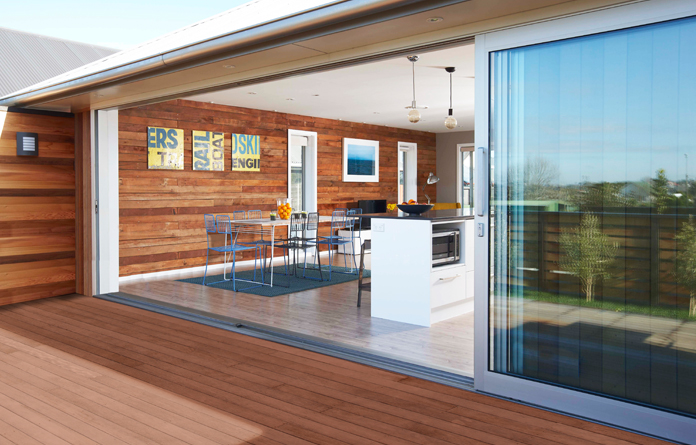 Securing Your Garden
Upon viewing a property and its garden, many people will access how secure it is. Even if a garden is not well kept or designed to the viewers liking, a secure and well maintain fence often works to reassure potential buyers.
Fencing is a great way to clearly define and establish boundaries from one garden to the next.
For families looking to buy a property, a secure fence will also be a big factor that they will take into consideration especially if they have young children or a dog.
Their a numerous cost effect methods to make your garden appear more attractive and appealing to potential buyers. But most importantly a garden should be secure and provide an area where people can relax and socialise, any thing more than this is a bonus.