Last updated 01/08/16
No Job To Small, To Arrange A Free Site Visit For Quoting Purposes Call Tom on 024 76 588 904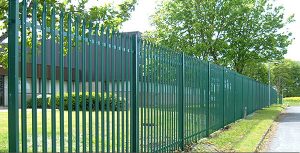 Security fencing is a great way to deter and prevent individuals from entering your property. Oakdale Fencing Ltd, based in Coventry, are able to offer the full supply, installation, fitting/repair to security fencing service to make your property as secure as possible.
If you are looking at improving the security of your property you have various choices depending on the level of security you require and the size of budget you have available, starting with the most affordable but lowest security rating we can install the following fencing and gates to customer specifications :
Chain Link Fencing and Gates – Available in a variety of standard heights from 1.6m through to 3m high, chainlink mesh can be mounted on concrete or steel posts, meshes come in a variety of specifications from plastic coated through to heavy weight galvanised mesh with barb tops as used by railway and power companies. Additionally, cranks and extensions can be added to posts to allow installation of barb or razor wire for added security. Gates can be custom built and installed to suit any opening up to 12 metres wide at a height to suit fencing.
Steel Palisade Fencing and Gates – Available in standard heights of 1.8m, 2.0m, 2.1m, 2.4m and 3.0m. Palisade fencing is installed in bays 2.75m long with individual pales being either round top, notched top or spiked top depending on security requirement. Metal palisade security fencing and gates can be fitted in either standard galvanised grey or in a variety of standard colours including green, black, blue or red amongst others. Steel palisade security gates are available to custom made sizes up to suit openings up to 12m wide. Offers higher security protection than chain link fences whilst being more affordable than many other type of metal perimeter fencing.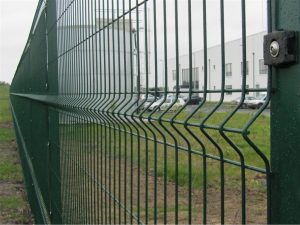 Rigid Wire Mesh Security Fencing and Gates – Available in the same heights as steel palisade fencing, rigid mesh fencing is considered improved security over palisade due to the integral anti-climb properties of this fencing and the difficulty any intruders might have passing objects through the fencing. Easier on the eye than palisade this fencing is generally available as a plastic coated welded wire mesh (8mm wire) and galvanised for extra durability. Despite the panels generally coming in rigid 2.5m widths they can easily be mounted on slopes as required producing a stepped top to the top of the fence. Matching gates up to 12m wide available for supply and fitting.
Steel Railings and Gates – Although often only considered for decorative purposes, steel railings do offer a formidable security barrier. Lacking in the ability to prevent objects being passed through the fence line, railings make up for this with their integral strength and the deterrent effect that can be achieved with finials to the top of the bars. Oakdale Fencing Ltd can supply and install steel railings in most common heights and with a wide range of finial patterns. Railings can be specified with bar thickness ranging from 10mm through to 18mm depending on strength required. Railings are also available in a range of standard colours meaning they can offer fantastic decoration as well as security to any property. Matching gates supplied and fitted as required.
Oakdale Fencing Ltd are available to repair, or install from new, any security fencing requirements you might have. We have teams of trained operatives fully employed by the company and quality checked at regular intervals to guarantee quality. We commonly install security fencing and steel railings and gates throughout the Midlands, Leicestershire and Warwickshire in towns such as Coventry, Nuneaton, Warwick, Rugby, Leamington Spa, Stratford Upon Avon, Birmingham, Leicester, Solihull, Bromsgrove and Redditch, although we also operate in other areas if required.
For advice or a quote please call Tom Bell on 024 76 588 904 Monday to Friday 9am till 5pm.