last update 01/08/16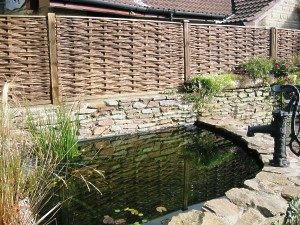 If your looking to create a privacy screen in your garden or to create interior perimeters to your garden space then willow fencing panels can be a great option. Willow hurdle panels woven in the traditional manner give an established natural rustic appeal to your garden space at all times of the year, are durable and easy to install.
Check out our Willow Fencing Panels at our online shop, click here : Willow Fencing Panels.
Oakdale Fencing Ltd willow hurdle fencing is constructed in the traditional manner by weaving willow switches horizontally across the panel in the traditional manner to form a rigid 1.8m x 1.8m screening panel.
Installing willow fence panels is easy, they can be simply mounted between natural round fence posts or machine round fence posts and attached with tying wire or cable ties to suit. Oakdale Fencing Ltd can supply all the tanalised fence posts and fittings to accompany the hurdle panels where required.
Oakdale Fencing Ltd, based in Coventry, offer a full delivery service delivering to Coventry, Bedworth, Nunueaton, Rugby, Solihull, Warwick, Leamington Spa, Stratford Upon Avon, Leicester, Birmingham, Northampton, Market Harborough, Coalville, Loughborough, Ashby de la Zouch, Lichfield, Tamworth, Alcester, Southam, Daventry, Hinckley, Atherstone, Redditch, Bromsgrove and most towns in Warwickshire, Leicestershire and the West Midlands. If you live outside these areas we are often able to offer competitive delivery to your area so please feel free to call to discuss delivery if you live outside these areas.
Check out the latest prices at our online shop by clicking here : Willow Hurdles
Alternatively call Geoff or Martin on 024 76 588909 Monday to Friday 8am -5pm or Saturday 8am till 12 for friendly advice and guidance on our wide range of decorative and natural fence panels.