Last updated 01/08/16
Wire mesh fencing can be a useful cost effective way to control pets and animals or to add more security to your property. Oakdale Fencing Ltd offers various types of wire mesh fencing to suit all the common uses.
Check out our range of wire mesh fencing at our online shop here : Wire Mesh Fencing
Based in Coventry, Oakdale deliver wire mesh fencing supplies to Nuneaton, Rugby, Warwick, Stratford Upon Avon, Leamington Spa, Solihull, Redditch, Birmingham and Leicestershire as well as delivering to all areas throughout the Midlands, Warwickshire and Leicestershire.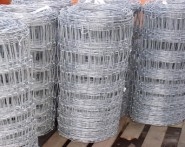 Our selection of wire fencing includes strained single strand wire, chicken wire, stock fencing (C80/80/15 and L13/122/15), rabbit netting, chain link fencing, rigid wire mesh security fencing as well as off the roll 3ft galvanised meshes in either 13mm or 25mm mesh options.
Our line wire or single strand straining wire is great for use as simple demarkation fencing or can be used in conjunction with netting to support netting and prevent sagging. Our line wire is made from 3.15mm galvanised wire and comes in rolls of either 75m or 407m. We also carry stocks of the same line wire with a plastic coated finish for use on plastic coated chain link fencing.
Our chicken wire or rabbit netting comes in a 105cm or 180cm height option in 50m rolls, is fully galvanised and ideal for rabbit hutch repairs, chicken coops or for use as rabbit netting where the netting is hung between timber stakes and buried 600mm to prevent rabbits coming onto your property.
Our stock fencing and netting is available as C80/80/15 or L13/122/15 in 50m rolls. Ideal for attaching to post and rail fences as sheep netting or for mounting between stakes as a stand alone fence.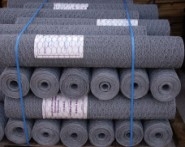 We stock and supply chain link in all common heights in both galv'd and plastic coated variants. We carry a range of timber and concrete posts suitable for chain link but can also offer competitive prices on steel angle or box section posts and gates.
If you are after a security fence, either supply only or supply/install, we can offer a range of rigid wire mesh fence panel security alternatives to suit most budgets. Meshes are constructed from 8mm wire welded into anti climb grid panels, mounted on steel box section posts and galvanised and powder coated to many standard colours.
As well as the actual wire or netting, we carry large stocks of accessories for use with wire fencing. We carry ferrule winders and ratchet winders for tensioning line wires, all fastners and fixings such as fencing staples, hogg rings, tie wire and bolts as well as a large selection of specialist tools for constructing wire fences such as fencing clip guns, netting pliers, and wire cutters.
If you need posts or brackets to go with your wire fencing we carry a large selection of suitable tanalised timber posts ranging from typical sawn timber fence posts through to natural and machine round stakes. If you require steel posts to go with chain link or security fencing we can usually offer very competitive prices and delivery times on most sizes suitable for common fence heights.
For friendly advice please call Martin on 024 76 588 909 Monday to Friday 8am till 5pm or Saturday 8am till 12.