Updated 01/08/16
If you are looking for a supply and installation team to erect Armco crash barriers to your facilities then Oakdale Fencing Ltd are the team for you. Oakdale Fencing Ltd, established in 1985, have extensive experience installing crash barriers for both the Highways Agency and private landlords.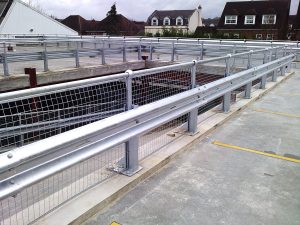 Whatever facilities you have that need protecting, be they loading docks, warehouses, car parks, building protection, storage tanks or access roads, Oakdale Fencing Ltd can offer a range of options and speedy, unobtrusive, cost-effective installation.
We maintain large stocks of all the common armco barrier components meaning we can supply or supply/install at short notice if required. We can offer a number of solutions from surface mounted bolt down posts through to concrete-in (socketed if required) posts to suit most situations and can offer a number of different styles of post to suit most budgets.
If you are a contractor with a road project, Oakdale Fencing Ltd have Sector Scheme 2B approval for safety fencing, carry full quality certification and have fully trained CSCS installers. We have extensive experience on highways safety fencing contracts valued from £5k through to £750K and work throughout England and Wales. Contact Tom Bell on 024 76 588 904 or Anthony on 024 76 588 906 for a full record of experience.
If you have off road or on road works please contact Tom Bell in the first instance. We can arrange to attend site to carry out a full survey, determine your requirements and identify the most cost effective solution for you. If you already have a specification and design please feel free to request a supply or supply/installation price.