last update 01/08/16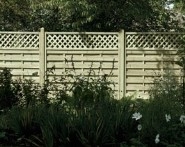 Decorative garden fence panels are a great way to improve the ambiance of your garden and set you off from your neighbours. There are now many modern designs on the market which offer a broad range of creative options to suit your garden, whether you have decking or a straight forward lawn garden with borders.
Check out our range at our online shop, click here : Decorative Fence Panels
Oakdale Fencing Ltd carry a wide and varied selection of decorative timber fencing panels to suit all situations and tastes. We deliver to Coventry, Nuneaton, Rugby, Warwick, Stratford Upon Avon, Leamington Spa, Solihull, Birmingham and Leicester as well as to most areas in Warwickshire, West Midlands and Leicestershire. If you are from outside these areas we can often offer a competitive quote by e-mail if you so desire.
Our range of decorative garden fence panels is made up of the York, Devon, Sussex and Kent design of popular euro panels. All our euro panels are constructed from tanalised timber for improved durability and are of a high quality construction making them some of the strongest fence panels on the market. Sizes are metric ranging from 0.9m high through to 1.8m high in 1.8m widths.
We also carry Hazel and Willow fencing panels and hurdles that are great for creating privacy screens.
We stock a full range of garden trellis fencing panels with the three main variations of straight top, bow top and domed top. These panels can be attached to existing fences for decoration and increased height or can be used for privacy panels or for attaching to existing timber fences and brickwork fascias to allow for decoration with creeping plants.
All our panels come in standard sizes suitable for fitting between existing posts or new, although it should be noted that euro panels are supplied in metric sizes rather than the standard imperial so may not fit between existing fence posts without alteration. Trellis and decorative euro panels are all made from tanalised timber for extra durability and the timber used in construction has been sourced from renewable forestry.
To check our designs and prices visit our online shop here : click here
If you require any advice you can call Martin on 024 76 588 909 from Monday to Friday 8am till 5pm or Saturdays from 8am till 12. We carry full stocks of panels so feel free to drop by and check out our panels for yourself during our opening hours.