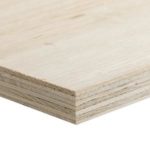 18mm Softwood Plywood Sheet
£42.00
Key Features :
• Lightweight and Stable
• Strong and Rigid
• Wall Sheathing
• Easy to Machine
• Square Edge Profile
• Environmentally Friendly
Description
18 mm softwood shuttering grade ply.
Sold as 8×4 (2.44 x 1.22 m) sheet.
Softwood Plywood is manufactured from spruce wood, making it extremely light weight and strong. Softwood Plywood's are easy to work with when using conventional wood working tools and the face of the wood are lightly colored which gives a pinewood effect and can be painted or varnished as required. High resistance to humidity also makes it suitable for projects where climate is an issue.
You may also like…
External Hardwood Plywood

Key Features: • WBP (Water and Boil Proof) • Wide Range of External Uses • Hard Wearing • Perfect for Shop front structures • Great for fitting out Vehicles • Bath Paneling

£

23.50 –

£

48.50